Happy Cinco de Mayo Sayulita
Happy Cinco de Mayo Sayulita Mexico! Its another beautiful day on the Riviea Nayarit.
Even though this day is not Mexico's Independence Day, which is actually on September 16th, this day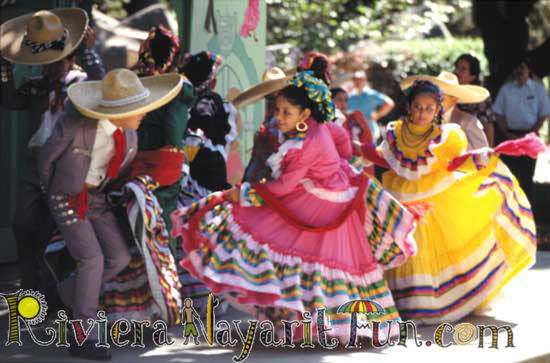 is more celebrated nationwide in the United states and it celebrates the Mexican heritage and pride and to commemorate the cause of freedom and democracy during the first years of the American Civil War as well as celebrating regionally in Mexico, primarily in the state of Puebla. There the holiday is called El Dia de la Batalia de Puebla, which means The Day of the Battle of Puebla.
In the state of Puebla, the date is observed to commemorate the Mexican army's victory over the French  at the Battle of Puebla on May 5, 1862 under the leadership of General Ignacio Zaragoza Sequin.
Recieving a Great Massage In Sayulita
For a great massage and great rates try Massage with Meridith Bradshaw. Vacations are all about playing and relaxing, and massages are part of that vacation! Weather you played hard
and are a little sore from hiking for surfing, or would like to relax under her professional caring hands, Meridith has the certified hours under her belt to take care of all of your massage needs. She has her practice at Paraiso Yoga and is certified and processional.
Check out her information here! and sign up for a great massage today! After all, you deserve it!
Fun on the Chica Locca
The large Tri-Maran vessel is open for business all year long taking folks out on amazing ocean adventures.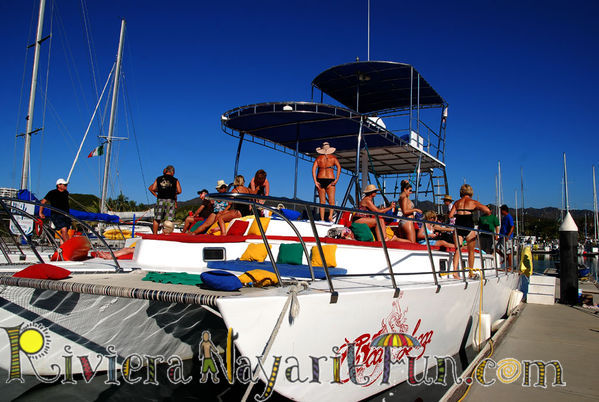 Everything is inclusive on a Riviera Nayarit Majical Tour. That means that your transportation, breakfast and lucnch, and an open bar are included in one great price…which means your worries for the day are over! Let the Chica Locca crew take care of everything! Come check out the Riviera Nayarit Majical Tours on the Chica Locca and have the best day of your vacation.
Sayulita Records is Proud to Present:
Mack and Moon with Sunset Temptations
May 12, Sayulita Records presents : Mack and Moon with Sunset Temtations and its time to party at the BUDDAH BAR in Sayulita. They are going to be having some great DJ's from across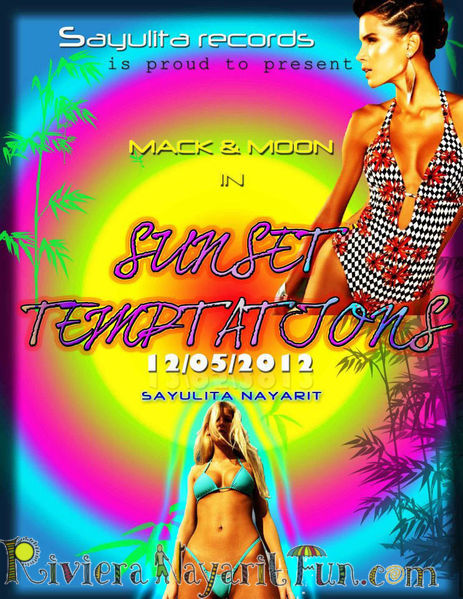 the planet, and the Buddah Bar is the perfect place for the venue with a full bar and plenty of dancing room as well as tables with a great ocean view. Cover charge is only 10.00. So come and enjoy the fun and get your groove on! There will also be an after party that will rock into the morning hours!
Sayulita Records is creating more events and making big names for DJ's in Mexico and around the globe.

This presenting DJ's are: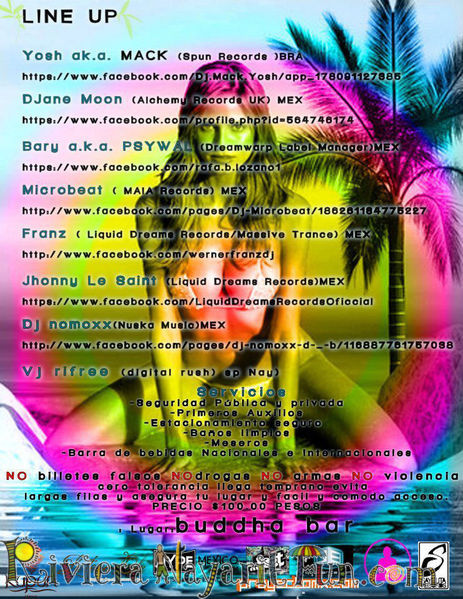 The first 5 people that show up get in free!
MAY 12, 2012 at the BUDDAH  BAR!
Come and get your groove on in Sayulita Mexico!

(click on the photos for larger detail)
Poker Run in Sayulita
The Poker Run is on Friday, May 11th. It all starts at the Tropical House. It is a traveling poker game, we go to 5 restaurants, eat and drink at each one and pick a card at each one. the best hand at the end wins 30% of pot, and the rest goes to benefit CVIS scholarship fund. This is really an event we do for locals and is lots of fun! Tickets are on sale at CVIS. (Costa Verde International School)  Come and enjoy the fun, and its also a great way to give back too!
New Music Video by Ganjo Bassman
Come and help out Sayulita's local rock star Ganjo Bassman and the band as the are professionally making their new music video "Breakthrough E.P." that will be featuring four brand new songs. This event will be the start of the pre-production of the Debut Album. Please come on down to the Sayulita town square on Sunday May 6th to give your support and help to create this fun video! and listen to the new tunes. See you there!
Sayulita Vacation Rentals
Coming to Sayulita to party is always a fun time spent with your friends out drinking and listening to some music, and what is life without dancing?  It is part of what Sayulita is known for and if you love to come out to play and party, and stick around for the after party's, then its a good idea to find a nice place to crash. And, you may as well make it a fun weekend get-a-way and stay a couple of nights! There are a lot of choices in Sayulita…here are a few suggestions.
Paraiso Bungalows has a great price for a really nice and clean bungalow with a lovely tropical setting.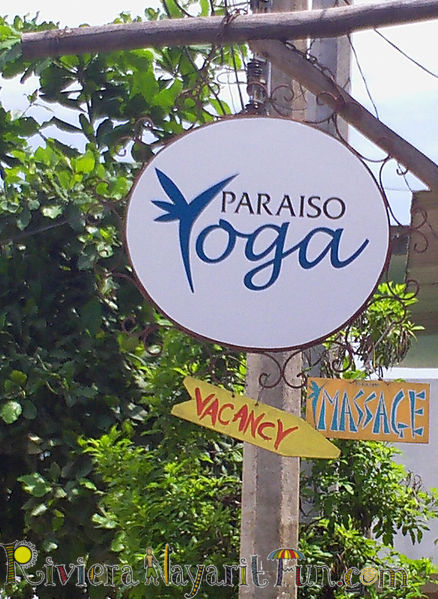 Yoga classes and massage are available as well. A great location, close to shops and town and a couple of blocks from the beach, yet a peaceful and quiet setting.
Casa Terramar has a wonderful view of Sayulita and the ocean along with a nice pool. An upgraded style of living at an affordable price,and available all year. Check out the summer rates for their one, two or three bedrooms by clicking on their free listing hyper link!
Villa Del Moro is located by the town square and has a lovely pool as well as a nice secure gated property with all of the comforts of home. Enjoy the convenience of being right downtown in their studio, one and two bedroom units. Check this out on the free listing website link!
Enjoy your Riviera Nayarit vacation and come join the party in Sayulita Mexico!